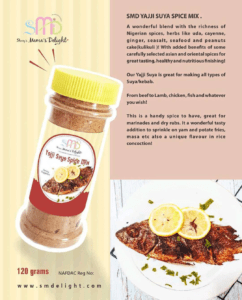 A wonderful blend with the richness of Nigerian spices, herbs and peanuts with added benefits of some carefully selected asian and oriental spices for great tasting, healthy and nutritious finishing!
Our Yajji Suya is great for making all types of Suya/kebab,from beef to Lamb,chicken, fish and whatever you wish!
This is a handy spice to have, great for marinades and dry rubs. It a wonderful tasty addition for yam and potate fries too,and a good friend to rice concoction!