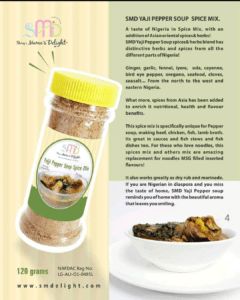 A taste of Nigeria in Spice Mix,with an addition of Asian oriental Spice& herbs!
Our Yajji Original spices& herbs blend has distinctive herbs and spices from all the different parts of Nigeria, from the north to the west and eastern Nigeria.
What more, spices from Asia has been added to enrich it nutritional, health and flavour benefits.
Our Yajji original is specifically unique for Pepper soup, boiling beef,chicken, fish,Lamb and it's great in sauces too.
For those who love noodles,this spices mix and others mix are amazing replacement for noodles MSG filled inserted flavours!
It also works beautiful as dry rubs and marinades too .