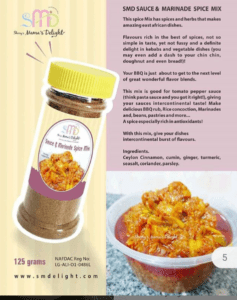 This spice Mix is exactly what it's name says! Not so simple in taste,yet not fussy and a definite delight in Moroccan kebabs and dishes!
Your BBQ is just about to get to the next level of great wonderful flavor blends.
This mix is great in tomato pepper sauce (think pasta sauce and you got it right!), giving your sauces intercontinental flavour! Make delicious BBQ rub, Rice concoction, Marinades and, beans more… A spice especially rich in antioxidants!
With this mix, give your dishes intercontinental burst of flavours