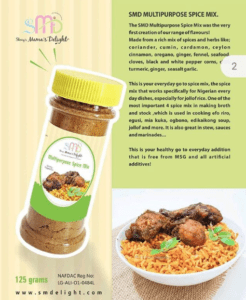 Hello peeps!
We're here again with our range of spice mix.
Today's Spice Mix Feature is SMD Multipurpose Spice Mix.
This spice mix is all round, which has about 20 different herbs that are naturally grown.
Do you want a quick meal with no MSG? SMD Multipurpose Spice Mix is the go to.
SMD MULTIPURPOSE SPICE MIX
This is it! This is your everyday go to spice mix,this is the spice mix made specifically for Nigerian every day dishes. A rich mix of spices and herbs,for making broth and stock which is then used for cooking efo riro, egusi, Mia kuka, ogbono, edikaikong stews, jollof and more. It is also great for stew,sauces and marinades… This is your healthy go to everyday addition that is free from MSG and all artificial additives!
Uses and Descriptions
All our spice mix are free from MSG and all artificial additives, including artificial preservatives, flavours and colours!

Each of the mix has between 11 to 20 combination of different spices and herbs that has been carefully studied and selected to give perfect taste finishing!

Store in their jars away from heat. Do not put wet spoons in the jars, and always close tightly after use.

The mix contains sea salt, so be careful while adding salt to your meals. Sea salt is a healthier alternative to the usual table salt. Some of the spice mix also have some specific sea food…
Enjoy ? and do give us feed back please ?
To order your spice mix flavours and sea salt, please contact us on WhatsApp 08064422278.
For more information, check our FB page: @smdnigeria
IG @smdnigeria
Or email at info@smdelight.com
Website: www.smdelight.com